Vision for the Community
We envision that all people in Bermuda are healthy, independent, financially secure and connected to community, with equitable opportunities for all.
Key Concepts
Centennial Bermuda Foundation adopted two concepts that help frame grantmaking and address the Social Context we have identified in Bermuda:
Targeted Universalism: The idea that there is indeed a level playing field has proven not to be the case for all sectors of society. We recognise that there are some who are chronically disadvantaged. There are groups that do not share the same positive relationships with institutions and therefore do not have equal access to resources in their society. Continuing with the notion of equality is therefore reconsidered, as it will not reach those most in need, as opposed to equity, which is inclusive and targets the needs of the most marginalised.
Structural Racism: "A system in which public policies, institutional practices, cultural representations, and other norms work in various, often reinforcing ways to perpetuate racial group inequity. It identifies dimensions of our history and culture that have allowed privileges associated [principally] with "whiteness" and disadvantages associated with ["colour" and ethnicity] to endure and adapt over time. Structural racism is not something that a few people or institutions choose to practice. Instead it has been a feature of the social, economic and political systems in which we all exist."
Source: Aspen Institute Roundtable on Community Change. Glossary for Understanding the Dismantling Structural Racism/Promoting Racial Equity Analysis. Aspen Institute 2009: https://assets.aspeninstitute.org/content/uploads/files/content/docs/rcc/RCC-Structural-Racism-Glossary.pdf
Our Values
Value of relationships: Centennial recognises and values the central place of healthy relationships in our lives. From our families to our larger community, it's how we interact and what we can do together that will have a meaningful impact on our society.
Value of research and understanding: Centennial appreciates the importance of proactively seeking to understand the dynamics at work in our community, as well as the larger world. We value research and reporting as the means to deepen our knowledge and strengthen our focus for giving.
Value of thoughtful decision-making: Centennial values a thoughtful and discerning approach to decision-making. The need for changes in society's structures is balanced with the value of personal transformation. The importance of organisational stability is balanced with the value of innovation and risk-taking.
Value of equity: Centennial places a high value, not simply on equality, but more importantly on equity. People do not all start on a level playing field, so we consider how to offer universal benefits for everyone, while targeting special support for those with need. This concept is sometimes identified as 'targeted universalism'. Our decisions can profoundly affect people's lives and we approach this responsibility with integrity.
Spheres of Influence
Centennial Foundation has identified four spheres of influence, which we believe can help heal, improve, inspire and re-balance the Bermuda community to be a dynamic and fair-minded place to live and grow. We aspire to the following outcomes in these four areas: (Please explore our Theory of Change for greater detail).
Economic Participation
All Bermudians have equitable employment opportunities, work satisfaction and financial security.
Education
People lead purposeful lives with equitable opportunities, as independent thinkers who are socially aware and productively engaged.
Healthy Families
People in Bermuda have complete physical, mental, social and material well-being.
Connected Communities
The entire Bermuda community participates in activities that create a sense of belonging.
Theory of Change
Developing a Theory of Change enabled Centennial to more clearly articulate its strategic direction and to carefully describe how it would implement the new processes and procedures necessary to accomplish the intended outcomes. From vision to action, there are well-defined steps for grantmaking, based on a Social Context unique to Bermuda and values that are meaningful for our organisation.
What is a Theory of Change?
Theory of Change is a rigorous yet participatory process whereby groups and stakeholders identify the conditions they believe have to unfold for their long-term goals to be met. These conditions are modelled as outcomes or, more precisely, desired outcomes, arranged graphically in a causal framework. A Theory of Change provides a clear and testable hypothesis about how change will occur and what it will look like.

– Source: ActKnowledge: Theory to Results at http://www.actknowledge.org/services/theory-of-change/
How did we arrive at our Theory of Change?
The process began with an opinion survey, commissioned by the Board, to ascertain perceptions of the Foundation by the non-profit sector, and also to obtain data not available from prior surveys or reports on the sector. This information was considered by the Board, which then engaged consultants to assist with planning for change. Four task forces were formed, including members of the Foundation's Board and Donations Committees, to determine how best to address the issues that matter in our community.
After two years of consultation, examination and thoughtful deliberation on the current needs of our Island community, a Theory of Change has emerged for Centennial. We have carefully considered what we envision for Bermuda's community and what steps might be taken to achieve that vision.
During our discussions, several questions were raised:
What might need to happen for people to experience more equitable access to opportunities?
How might good health and well-being be experienced by all families in Bermuda?
What would it look like if everyone in our community felt welcomed and included in Bermuda's success and prosperity?
How might education play a key role in helping people to lead fulfilling and productive lives?
From 2014 to 2016, Centennial hosted sessions with upwards of 30 Board and Committee members, where the following ideas emerged and informed the Foundation's Theory of Change:
The time is right to shift from being a charitable to a philanthropic organisation.
For us this means a shift from addressing short-term, immediate needs (i.e. relieving the symptoms of social issues) to having a longer term, more collaborative and sustainable approach to solving problems (i.e. addressing the root causes of social issues).
Bermuda continues to experience the ripple effects of being an historically overtly racially segregated and fundamentally unfair society.
We recognise that two Bermudas still exist: one where access to opportunity, financial security and general well-being is very difficult to achieve, and another Bermuda where, for some, there appear to be few obstacles in their path. The 'social and economic divide' can feel very wide at times, therefore, we believe that moving towards healing and equity of opportunity is vital.
We identified the importance of relationships –
From those within families to partnerships, collaboration and cooperation with the non-profit and government sectors, as well as the larger community. The sense of working together as a community for the good of all seems more important now than ever before.
It is becoming more critical to make funding decisions based on sound rationale, solid evidence and a strong understanding of the issues in the face of a complex and fast-changing world. Research and reporting can help to support these efforts.
Our story has reached a turning point and a new beginning. Building on the accomplishments of the past and learning from the reality of the present, we look to the future with optimism and hope.
Explore our Theory of Change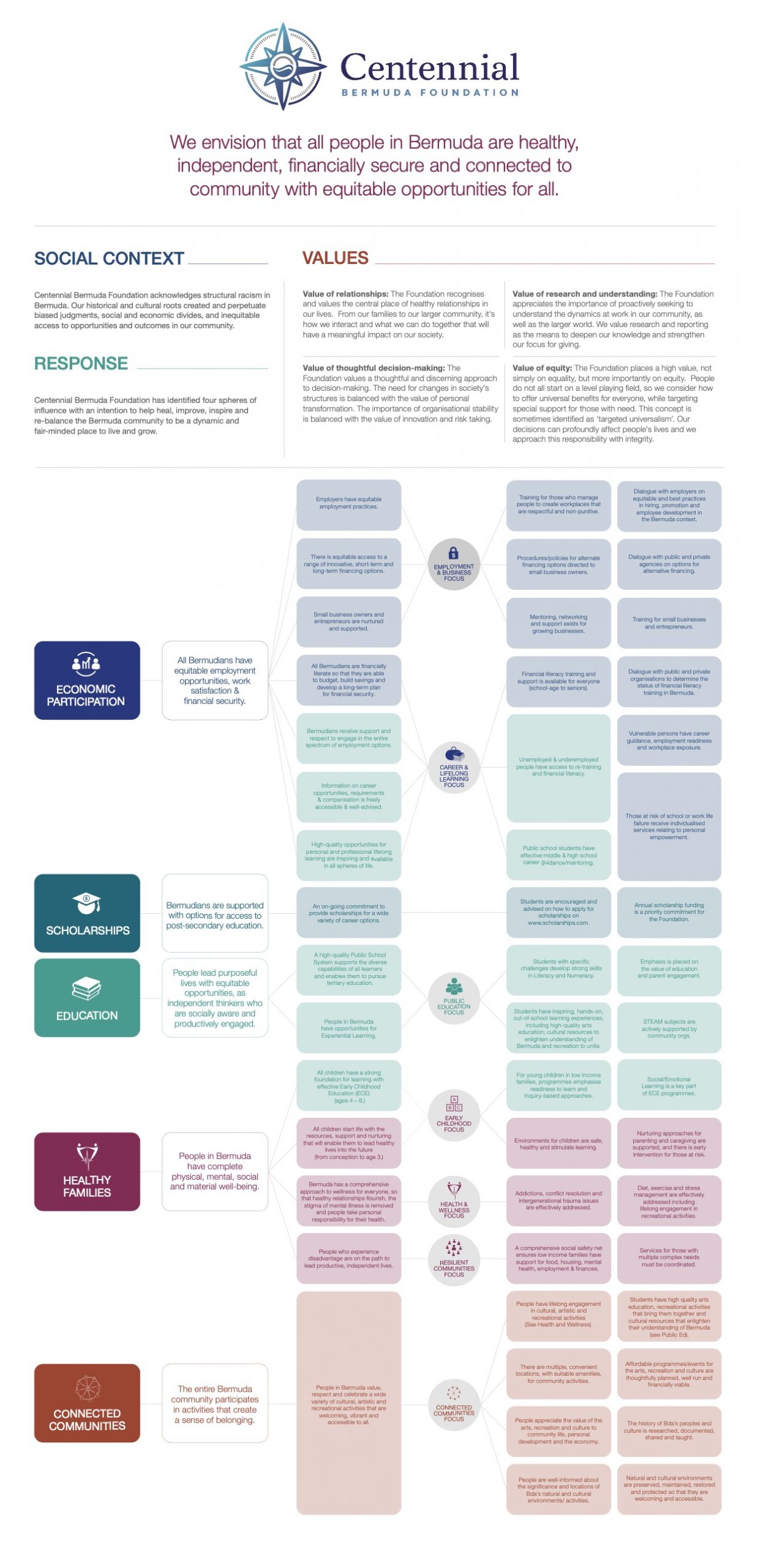 With the goal of helping people gain a full understanding of our Theory of Change, we've made it available here in the form of a Flow Chart. This chart explains the Theory from its high-level goals to the areas we focus on and the interrelation of individual outcomes.
Click the image to the left to download a PDF copy.
Downloads
Click to download (you may need to right-click and Save As.)